First off, if you already run an SSL-enabled server, update your SSL certificates immediately. You can use this tool to see if your site is vulnerable to HeartBleed, a serious issue in OpenSSL.
If you want to enable SSL for your web site or to spend less for your SSL certificates, read on.
There are three types of validation for SSL certificates.
1. Domain validation
You show you own the domain by responding to an email sent to your domain.
Issue time: minutes
2. Organization validation
You show you own the business through paperwork as well as performing the domain validation.
Issue time: a few days
3. Extended validation
You have to verify your organization's legal name, physical address, phone number, your right to use the domain name and a bunch of other things.
Issue time: up to a week
The cheap SSL certificates are domain validated and support a single domain. You can use the links below to see prices for the more expensive wildcard SSL certificates, but I won't be discussing them here. And if you're just starting out, a cheap SSL certificate for a single domain will be fine.
SSL certificates aren't all equal. They also serve a few purposes. The most basic feature is encrypting web traffic, but you should also consider browser recognition and the reputation of the issuing Certificate Authority (CA) (e.g. Thawte, GeoTrust, Verisign, etc.) Major CAs have good browser recognition (99%+) so the last factor to consider is their reputation. Comodo/PositiveSSL have had security breaches, which tarnishes their reputation.
Most of the sites below resell these cheap SSL certificates from different CAs. Oddly, you can get them much cheaper from the reseller than you can by going to the source. Take a look at SSL Shopper's CA review page to get an overview of a CA's reputation.
The prices below are all for 1 year. They're often cheaper when you pay for multiple years.
$8.95/year
GoGetSSL has the lowest price, but I haven't used their service. The reviews I've read were favorable.
$9.95/year
SSLs is the next cheapest, but again, I haven't used them. Reviews I read were also positive.
$10.95/year
Namecheap (RapidSSL) is the one I use and recommend. They're not the only one to do this, but putting the www prefix (i.e. www.example.com) in the certificate's common name makes the certificate work for both www.example.com and example.com. Ordering was quick and painless and their live support was knowledgeable and helpful.
$175/year
Digicert is by no means the cheapest, but I've seen nothing but positive reviews raving about their customer support and how they have the highest acceptance rating. It seems like a good option if you're going for the ultimate in SSL certificates and customer service.
16 Apr 2015 Update – Another inexpensive option is CheapSSLSecurity.com. They have Comodo certificates for $5/year and RapidSSL ones for just under $7.
Free
StartSSL is free, but they have some restrictions. The first one is it's not permitted to use it for commercial purposes. That's often a deal breaker right there. Second, they charge $25 to reissue free certificates. To fully protect yourself from Heartbleed you needed to reissue your certificates.
Testing your installation
Lastly, once you've bought and installed your certificate, test it to make sure nothing is awry.
Here are four sites to test it, in order of thoroughness.
My $11/year Namecheap RapidSSL certificate got an A- on SSL Labs (for not supporting Forward Secrecy), 100% on Wormly and passed tests 3 and 4 with flying colors.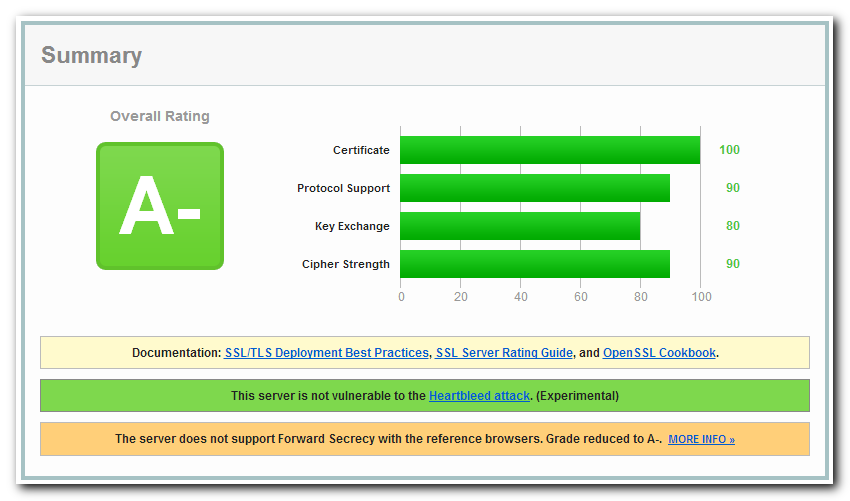 1. SSL Labs – The most thorough test I've found, but it takes a minute or two to run. Returns a letter grade.
2. Wormly – Also thorough. Takes a minute or two and rates the site with a percentage.
3. DigiCert – Runs quickly, just not as thorough.
4. BlueSSL – Also fast and easy.