Want to have the daily forecast at your fingertips? Wondering what the current temperature is this instant? Want to know when it's raining so you can close your car windows?
Weather Watcher Live by Singer's Creations lets you do this and more. It's powered by WeatherBug stations that provide real time weather feeds to insure you have the latest and most correct data for where you are. It shows the current temperature in the taskbar and when opened displays the time of sunset and sunrise, barometer reading, wind speed and direction, moon phase, precipitation history and more. You feel like a weatherman, but without the blue screen and hand waving.
It's a little heavy as far as software goes. After using it for a while I opted for the Weatherbug Firefox extension (download). It shows the current temperature and 3-day forecast. I can view the rest of the weather data by clicking on the temperature.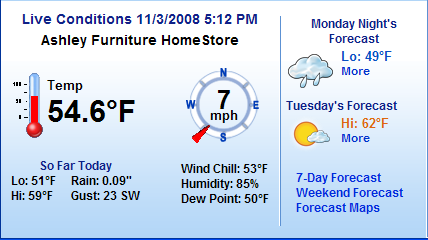 WeatherBug is my preferred source of weather, but it's by no means the only source. Here are several others.
Weather Underground – Complete forecasts with air quality, almanac values and the works. Excellent resource.
Weather.com – Probably the most well known, but I've found their forecasts are off by several degrees compared to the rest of the sites
Qwikcast – Not nearly as thorough as other sites, but what it has is accurate. Has worldwide weather.
How to predict the weather without a web site.
National Weather Service – Has the most detail you'll find anywhere.
Weather.gov – Radar info, good for forecasting if it's going to rain at your outdoor party.