I used to play an old DOS-based BMX game and this flash-based moto-cross game reminded me of it. BMX star and BMX backflips have a similar feel of the game.
Someone noticed the similarity on Digg and asked about it. The response was a game called Across, and it sounded right.
I searched on Google for Across.exe which led me to this page, where I downloaded the blessed game that I had spent hours playing.
More research revealed the game was originally called Action Supercross and was later renamed to Elasto Mania. Who knew there would still be a following after all this time? There's even an Elasto Mania web site with best times for the various levels.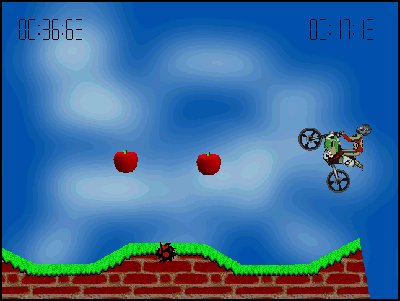 I was hoping for an online version of the game, but that doesn't appear to exist. I did find a GPL'd clone of the game that runs on Windows and Linux, so at least you can play anywhere. This brings back fond memories of that game, and I'm sure I'm not the only one. I would bet Across (or Action Supercross) was one of the more successful shareware games of its time.