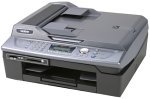 We just bought a Brother MFC-420CN multi-function printer and although I haven't used it much, I'm already pleased with it. The reason I chose it is because of the network port and the price (less than $150). In addition to being a printer, it's a copy machine, a fax machine, a scanner and it can even print from digital media cards (like those you use in digital cameras).
I love having a copy machine handy in the house, so that alone is nice, but having the printer on the network means we can print to it from any computer without having to set up a print server on one of them. It's also nice to have a scanner in case we have any pictures we want to digitize. It even comes with OCR software for Windows so you can scan in documents and turn them into text.
It came with drivers for Windows on a CD but after getting it I realized I hadn't checked for Linux support. Fortunately, I was pleasantly surprised. My machine is using CUPS and it was pretty easy to get it to work. In the end, it only took the following two steps:
1. Install the LPR driver and the CUPS wrapper driver RPMs for your printer and OS combination.
2. Follow the instructions for adding your printer in CUPS.
It's not the fastest machine in the west, but it's adequate for our needs. Printing speed is 20ppm black & white and 15ppm color. Copying speed is 17cpm black & white and 11cpm color.
It's very compact, taking up less space than our old HP DeskJet 600C and new print cartridges only cost $6.95 for black and $5.95 for color at PrintPal. The print quality is quite satisfactory in my opinion and so far I don't really have any complaints.
Carrot Ink is the best source of quality, inexpensive ink I know of.
Click here for Free Shipping with Carrot Ink today!