I've been using my new Cr-48 for over a week. It has some incredible features, along with a few drawbacks. Twelve months ago I felt Google Chrome (the browser) wasn't ready for prime time. It's made huge strides since then and a few months ago I began using it as my main browser. There are still some issues and features I miss, but the essential features are there, and I love the speed. With Chrome as my primary browser (with sync enabled) the transition to Chrome OS was a breeze. Here's what I've found after using it.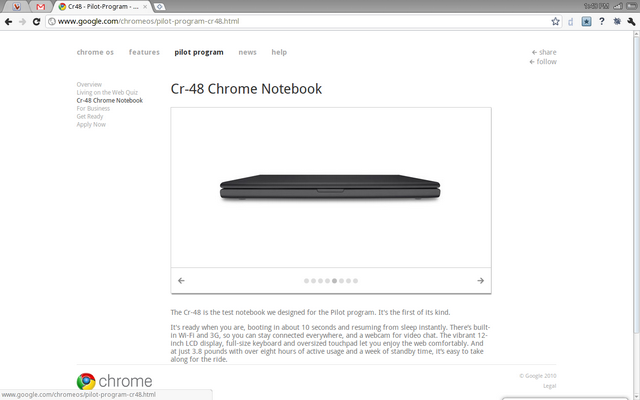 Positives
Fantastic battery life (8-10 hours, up to a week on standby)
Simple to set up, with all extensions and settings synced with Chrome sync
Powers on or wakes up when you open the lid
Incredibly fast to sleep/wake up
Guest mode (whole session in incognito mode)
Works for anyone with a Google account
Small and easy to carry around (could be lighter)
Keyboard shortcuts (with help screen shown below)
100MB a month free for 2 years with Verizon broadband
Stays cool
Even the safety instructions have a sense of humor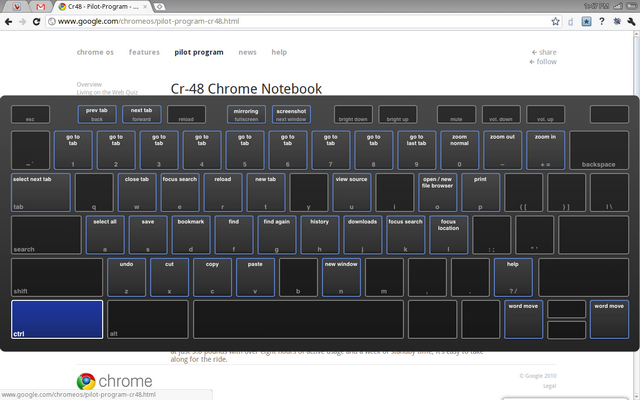 Negatives
No page up/down, home/end, or delete buttons requiring awkward shortcuts
No function keys (like F2 to rename, F11 for full screen, F3 for next item in search)
Touchpad is crap, making right-click, drag and drop and text selection unreliable and awkward.
Wifi slow to reconnect when waking up
Wifi antenna strength mediocre (direct line of site to router, still missing a bar)
I miss local apps like Power calculator, notepad++, iDailyDiary, Keepass, Linkman, Autohotkey
Performance is sluggish (especially with flash)
No vertical tabs
No 24 hour time (only AM/PM)
Conclusion
Many of the negatives are issues with the hardware, not the OS, and being a prototype, that's to be expected. Many of these problems will probably not exist in the finished product. The second category of complaints is being forced to use the cloud for every little thing. I use the cloud a lot, but I still have several essential local apps. A killer solution would be to allow a hybrid of local apps along with the cloud. I have heard rumors that Chromium will be able to run native apps through the browser. If that happens, I could see myself using Chrome OS permanently. As it stands, the Cr-48 is great for checking email and RSS feeds, letting my kids play Starfall or a quick search online. It doesn't fit my typical workflow for text editing, image manipulation and development, but this could change as Chrome apps mature. I look forward to seeing how it improves in the next 12 months.