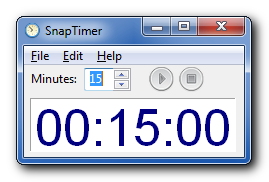 I've been searching for a Windows countdown timer that satisfied all my requirements for a long time. If you recall, I searched back in 2008 and posted my findings here. I've continued to search without success, so I decided to write my own. It's called SnapTimer.
While writing it I reviewed all the Lifehacker timer posts and implemented any reasonable feature I could find. It's flexible enough to be used with the 2-minute rule in GTD, the Pomodoro technique, the 30 minutes of uninterrupted work from the Now Habit, Steve Pavlina's 15-minute method, Merlin Mann's (10+2)*5 hack and any other productivity method requiring a timer.
I've been using it for the past few weeks and I've seen a significant increase in productivity. I hope you will too.