My fellow Seinfeld fans, there is a myth that has been perpetuated too long. You know the one I'm talking about. Heck, in weaker times even I succumbed to its sweet siren song.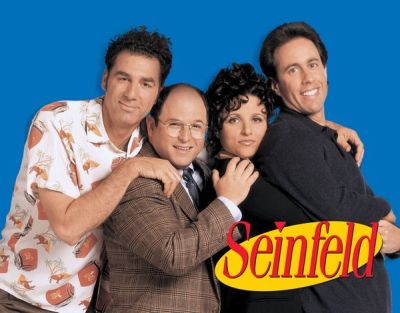 But the myth is wrong, no matter how many think otherwise. It's time to set the record straight.
The myth states that every Seinfeld episode contains a reference to Superman. It's not true, no matter how generous you are in allowing vague references.
There are multiple episodes, but The Subway is a good example. I've watched the episode and checked the script. There are no references to Superman, Clark Kent, Lois Lane, Smallville, Kryptonite.
The facts are that Seinfeld is a fan of Superman and the topic comes up frequently in the show. The Superman magnet and figurine weren't added to Jerry's apartment until Season 4 and 5, respectively, and not all episodes even show the apartment.
So there you have it. The myth is dispelled.
Update: 7 Mar 2012 Reddit linked here and a few folks claimed the reference could be so obscure it would be missed by mere mortals. To that I say, pssssha. Such a claim shouldn't require a Supermanologist (Supermanician?) to confirm it, and a stubborn adherence to a myth rather than dealing with the facts does not make it true.
I'm not one to be deterred by unreasonable claims of obscurity, so I'll introduce you to Barry Frieman at supermanhomepage.com where he wrote an article about this very topic. I quote, "…an urban legend has sprung up that Jerry snuck a reference to the Man of Steel in every episode of NBC's Must-See comedy juggernaut, 'Seinfeld', which aired from 1989 to 1998. Not true." (emphasis mine) I rest my case.
If you still aren't convinced, what's the reference to Superman in "The Subway" episode?