Do you have an old HP LaserJet 5L? Do you use a USB to Parallel port converter for it? I do, and for almost a year, printing on it made me tear my hair out. Print jobs took forever to start, sometimes you'd have to hit a button to get it to print even though there was no paper jam and the biggest nuisance of all was that documents would fail to print correctly. Sometimes you'd get a good top of the page and the bottom would be on the next page. Other times it would print partially, then page after page would spew out with a few random ASCII characters at the top. I was ready to get rid of it and buy something else. Then I looked for an answer online.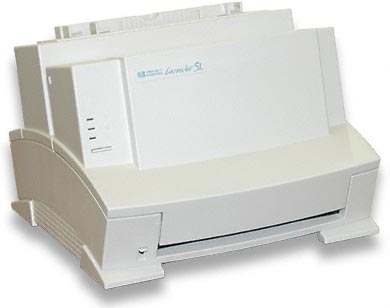 The solution still stuns me. I replaced the driver for the HP printer with one for an Epson ActionLaser 1500. Yes, that's correct, the Epson driver makes the HP printer work perfectly, every time. Print jobs start in a second or two, every job has printed correctly and the printer even goes to sleep when it's idle, coming back to life when necessary. I feel like I have a new printer.
If you're having similar problems, change the print driver to the Epson ActionLaser 1500. There's nothing to download, it should be available in the list of printers (in XP at least).
One tweak to get a little better print quality, though it prints fine without this, is in the printer properties.
Go to Printing Preferences, Paper / Quality, Advanced… and enable Super Cell for Halftoning.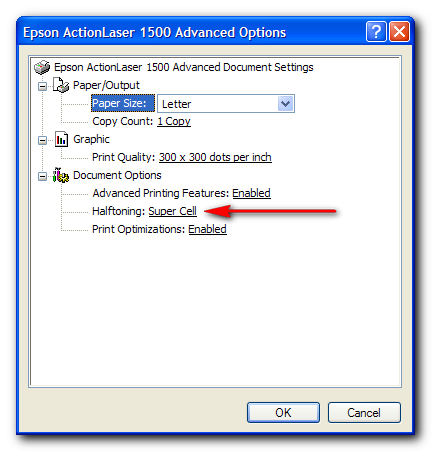 These two links were the most helpful in finding the solution.
1. FixYourOwnPrinter
2. HP IT forums
Happy printing :)
Update 5 Mar 2011: Drivers for an Epson ActionLaser 1500 are hard to come by on Windows 7, but the HP LaserJet III driver works for the Epson, and seems to do a better job for the LaserJet 5L too.