It's that time of the year again. Since I skipped my annual Christmas desktop showcase last year, I'm going all out for 2008. Not only is there a screenshot, but an animated GIF of the desktop, including a Christmas-themed browser (Firefox). To top it all off, I've linked to all the apps and images I used to create this seasonal extravaganza in case you want to create your own.

My Christmas desktop without the browser visible.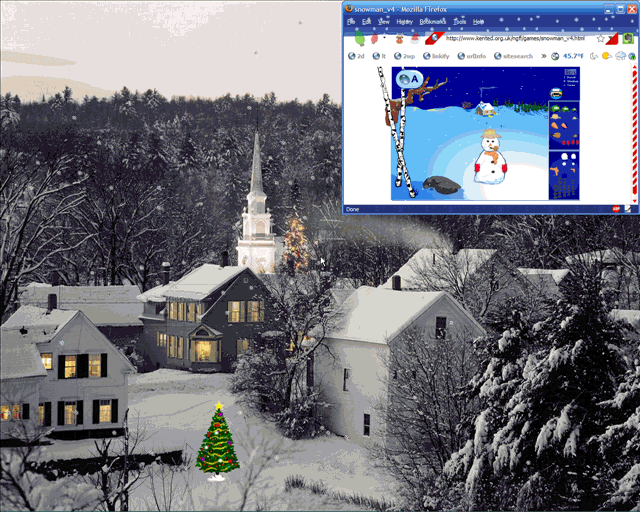 My animated Christmas desktop with Christmas-themed browser visible.
Here's what's behind the scenes.
1. Christmas in New England wallpaper. Another one I considered was this festively lit lighthouse from InterfaceLift. If you're still not satisfied, try Wallpaper Pimper or browse this selection of 50 winter wonderland scenes.
2. Snow (download zip) is the best Xsnow equivalent I could find for Windows. The default options are okay, but I like me some more snow. I ran it with these options in the screenshot: snow -num 100 -side 10 -down 10
3. Animated Christmas tree. Mousing over the tree displays the number of days until Christmas. The site has a variety of tree styles to choose from.
4. The Tinseltown Firefox theme turns Firefox into nothing but Christmas (Warning: it gets old pretty quick). Another Christmas theme switches between daytime and nighttime scenes based on the current time.
5. Create a Snowman is in the browser on the animated desktop.