I've had no trouble finding processor, memory and network monitoring tools on Windows. Process Explorer from SysInternals does a great job of showing processor and memory use (overall and for each process) and NetStat Live displays incoming and outgoing network traffic. The only thing missing was an easy way to see what processes were using the disk.
Every once in a while my hard drive begins churning and it's a little disconcerting to have no idea what it's doing. Nothing stands out with high CPU or memory use and the network traffic is all but nil.
I searched high and low for a tool to show processes ordered by current disk activity and eventually found what I was looking for in Process Explorer. The trick is to enable the following three columns one column: I/O Delta Total Bytes
I/O Delta Reads
I/O Delta Writes
I/O Delta Other
I didn't know about the I/O Delta Other until I was running a disk scan. It was scanning thousands of files so there was obviously disk usage, but the process had no reads or writes. I turned on other and it shot to the top of the list with a few hundred a second.
Next time your hard drive starts churning and you want to know what's causing it, get Process Explorer, go to View -> Select Columns, Process Performance and enable the three columns column I mentioned above. Click on the column header and the offending process will leap to the top.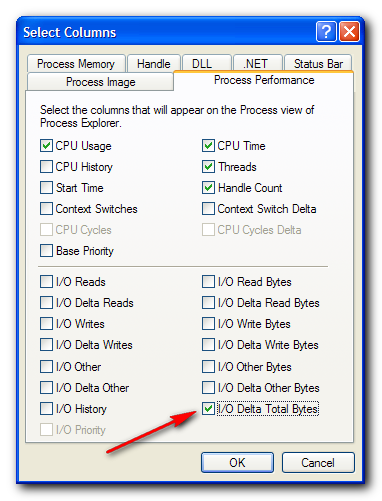 Update 11 Oct 2012 – You can also use the Disk Activity tab in the built-in Resource Monitor. Instant Fundas has more details.