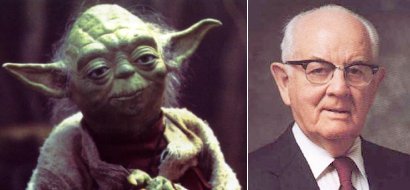 I've heard several people claim Spencer W. Kimball, a former prophet of the LDS church, was the inspiration for Yoda's appearance. Their faces were similar but it sounded like an urban legend.
In search of an official answer I found several sources saying he was based on Stuart Freeborn, the British makeup artist who created Yoda's character, combined with Albert Einstein. I'm convinced that's correct.
This Ask Metafilter question has several responses, including Joseph Campbell, Midgets seen in the Wizard of Oz, Tsenzhab Serkong Rinpoche, debate partner of the Dalai Lama, the mystic dreamt up by Carlos Castaneda, and the title character in the 1975 Russian-Japanese film Dersu Uzala directed by Akira Kurosawa.
This blog entry quotes Wikipedia (which no longer makes that claim) that he was based on the Tarsier.
By Common Consent has a comment saying the director of the Empire Strikes Back told them it was a little man on the set who came up with the idea, which was more or less his own caricature.
The nation master says he was originally designed by British makeup artist Stuart Freeborn, who based Yoda's face partly on his own and partly on Albert Einstein's, as his eyes are supposedly inspired by the latter. The current Wikipedia page appears to have copied this although it doesn't have a citation listed.
An article from the BBC about Stuart Freeborn states, "he decided to make a model of his own face and, as he wanted Yoda to look intelligent, he added a wrinkled cast of Albert Einstein for good measure…"