MyHeritage has a celebrity face recognition tool where you can do two things.
1. Upload your photo and find out which celebrity you resemble the most
2. Upload a photo featuring one or more celebrities and watch MyHeritage.com identify them
Number one was fun at first, but the more I played with it, the worse it seemed to work. It rarely got the gender correct, and it was extremely hard to see any similarities between the picture I uploaded and the celebrity picture.
To try out number two, I looked at the celebrity list, which has a respectable 4,000+ names. I noticed that what they consider a celebrity is sometimes a stretch. In other words, I hadn't heard of a quarter of the people on the list. Anyhow, I uploaded a picture of Bill Gates and its top three guesses were Jeff Daniels from "Dumb and Dumber", Kate Bosworth and DeForest Kelley, better known as Lt. Cmdr. Leonard 'Bones' McCoy. Real close, don't you think?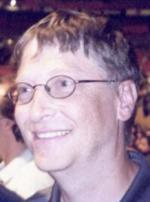 Bill Gates


Jeff Daniels


Kate Bosworth


DeForest Kelley
In summary, it's fun to try, but it's not very accurate. In fact, the direction the head is facing seems to be the determining factor. I mean, honestly, Bill Gates and Kate Bosworth?