My name is on a headstone (or grave stone, tomb stone or whatever you call it). The story goes like this: My Dad was setting up the affairs of my grandmother several years ago and she had requested to be buried in a cemetery in our town. When he began making the necessary arrangements, he discovered there were only a few more vacant plots in the upper part of the cemetery. In the upper part of the cemetery you can bury three coffins in a single plot. Once those were gone they were expanding the cemetery into a lower area where the water level was higher. This meant that you could only bury one coffin in each grave site. The lower ones would be more expensive, and my Dad decided to purchase not only a site for my grandma, but for our entire family. They told him it was customary to put a gravestone on the grave site. He bought a grave stone and was informed that if you're going to spend the money on the gravestone, you might as well engrave something on it, which he did.
So, my name is now on a headstone in my home town. It also has my birth date and a dash, awaiting the moment I keel over to add the date of death. I've sometimes wondered if anyone who knew me has seen it and, not noticing the lack of a death date, thought I'd kicked the bucket.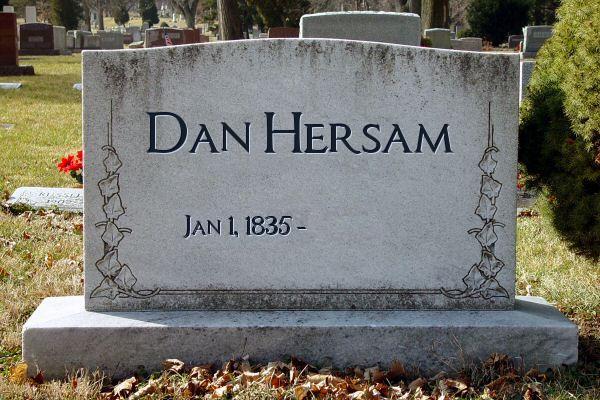 This was created using an online generator. It's not an actual photo, nor is it my correct birth date. Most of you already figured that last part out.