I wasn't very pleased with the default dashboard in WordPress 1.5, so I'm using the old one I created, with several improvements. Here's a thumbnail (click on it to see the full screenshot).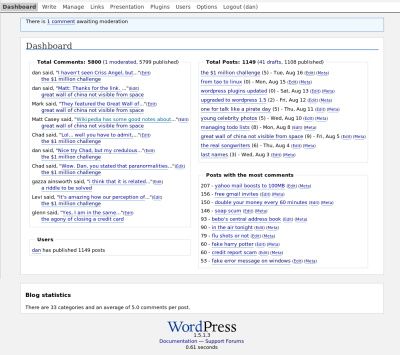 Main Features
Loads much faster than the default dashboard.
Displays the last 10 comments, the last 10 posts, the top 10 most commented posts, a list of users, the total number of categories and the average number of comments per post.
Alerts you to comments that have been moderated, reloading the page every 30 minutes to show updates.
Alerts you to scheduled posts that will be published on that day.
Works with WordPress 1.5.x
If you're interested, feel free to download it.
To install it, backup wp-admin/index.php and unzip the new one in its place.
Leave a comment if you have any questions or suggestions.
Update: At Teja's request I added incoming links, but since Technorati says I don't have any incoming links (even though a cosmos search shows 148), I used another URL to test it. I also added drafts at the bottom and the following links: One to create a new post, one to view published posts in the posts section, and one to view published comments in the comments section. Here is another screenshot with the draft titles blurred so I don't reveal my plans for future posts.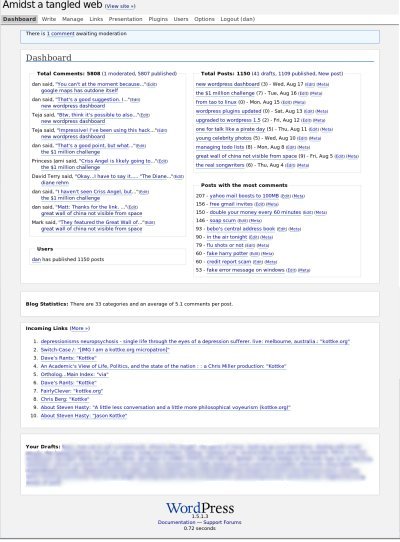 Update II: There is now an updated version that is 2.0.x compatible. A slight addition is that if you rename the original index.php to index-orig.php, then there will be a link to the original dashboard on this one. Let me know if you have questions.