I've heard from several different people that the Great Wall of China was the only man-made object visible from space. I heard it so many times that I became convinced of its veracity, and having not had the opportunity to take a jaunt into space, I had no way of verifying it.
I had never questioned the truthfulness of the claim when I thought it would be fun to see it on one of the many map sites or applications. I did searches for it using the applications, but they couldn't find it, so I just looked at China, thinking it would be easy to pick out. I didn't know where it was, so I had a hard time with that.
I found two maps that showed where the wall was located, but it was still hard to tell if it was the wall or if it was just a road from the satellite images.
For example, here's a satellite image of Beijing in Google Maps (click on it for the actual view).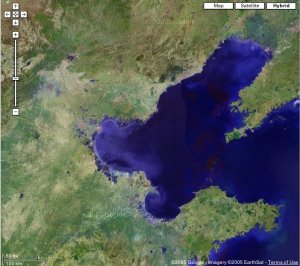 As you can see, the wall is not readily visible, but I'm not the only one who thought it was visible from space. Someone on the webmaster world forum thought the same thing, and another person pointed them to the snopes article showing that the claim was false.
So now, if you ever hear anyone say the Great Wall of China can be seen from the moon (or space), you'll know it's not true, and you can prove it. If you can't see it from a satellite, you're not going to be able to see it from the Moon.
Incidentally, here's what I believe to be a pretty decent view of the wall in Google Maps. If you zoom out a four or five notches, it pretty much disappears.