I bought a 512MB SanDisk Titanium Cruzer and whenever I tried copying a directory of about 300 files (about 140MB) it would give the following error (click on it for a larger version).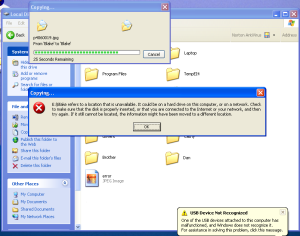 I tried it on another machine running Linux and it worked fine, but nearly every time I tried copying that directory on the first Windows XP machine it would get about halfway through and then produce the error. The contents of the error message in the little message balloon says, "One of the USB devices attached to this computer has malfunctioned, and Windows does not recognize it. For assistance in solving this problem, click this message."
I tried clicking the message but the troubleshooting assistance was of no help (come to think of it, I can't remember a time when it's ever been helpful).
I tried it on several Windows 2000 machines and two other Windows XP machines and it worked on all of them, so I concluded that it had something to do with computer rather than my hopes that it was just a faulty flash drive that I could exchange to solve the problem.
I did some research online and learned that sometimes the USB ports located on the front of the case don't have enough power for some USB devices. Sure enough, when I tried copying the exact same directory with the flash drive plugged into one of the USB ports in the back, it worked several times in a row.
In case it's useful to anyone, the machine that had the problem is a 2.0 GHz Celeron with 512MB of RAM. The motherboard is an Intel D845GVFN with an i845G chipset.
During the process of researching this issue, I learned of several other things to look for, so if you're looking for more help on a similar issue, try these links.
Error message usb device not recognized
USB 2.0 Flashdisk Device not recognized.
San Disk USB Mini-Drive not Recognized by XP
Unknown USB Device
When you install Windows XP Service Pack 2, the USB 2.0 drivers do not appear to update
New drive or mapped network drive not available in Windows Explorer
Google Groups search for comp.* USB XP "unknown device"
P4P800 problem with USB 2.0 ?