Snap MD5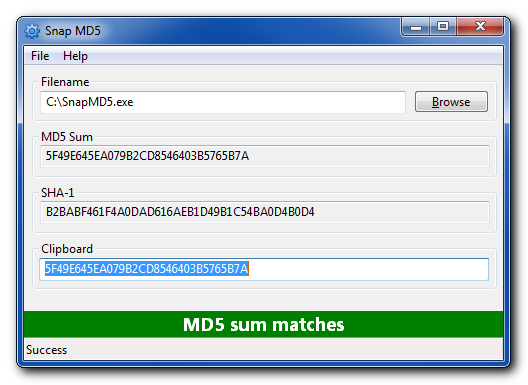 Snap MD5 is a simple utility to validate the MD5 sum of downloaded files.
It requires no installation and is completely portable, meaning it doesn't read or write to the registry and doesn't require any configuration.
To use it, copy the MD5 sum from the web site, then when the file has downloaded, run Snap MD5 and browse to the downloaded file. It will tell you if the file is valid or not.
Works on all versions of Windows, 32 and 64-bit and supports unicode characters in the filename.
Snap MD5 is freeware and can be used for private or commercial use.
How to install: No installation required. Just unzip the downloaded archive and run SnapMD5.exe
Source code available on github.
Size: 612B (1.5MB uncompressed)
MD5: 6BA2289F4766B805E9F74EE4D4C87352
SHA-1: 00754F548257B08C7CA438C53E3A46210F4D0012
License:
Open Source (GPL v3)
Here's a demo of to use SnapMD5
Mentions elsewhere
Updated Oct 19, 2023