I've had slightly elevated blood pressure since college that gradually moved to high blood pressure and then it reached full on crappy hypertension. In an effort to track and lower my blood pressure, I began checking it at home. I've optimized the process to 3 easy steps:
1) Take my blood pressure (hard to avoid

)
2) Type 'bp' into the web browser
3) Fill out the form and hit submit.
I've found that making something as easy as possible can help break down the tendency to avoid certain tasks. Here's how you can do the same thing.
Step 1: Take your blood pressure
I use the Omron HEM-711 but the brand or model you use doesn't matter as long it's accurate. Take a few deep breaths, make sure your arm is resting comfortably at heart level and think happy thoughts. The monitor will do the rest.
Step 2: Type 'bp' into your browser
This works thanks to a Shortmarks entry I created. You could use a bookmark to the form, but it's faster to keep your hands on the keyboard. (I'm willing to race those who need convincing.)
Step 3: Fill out the form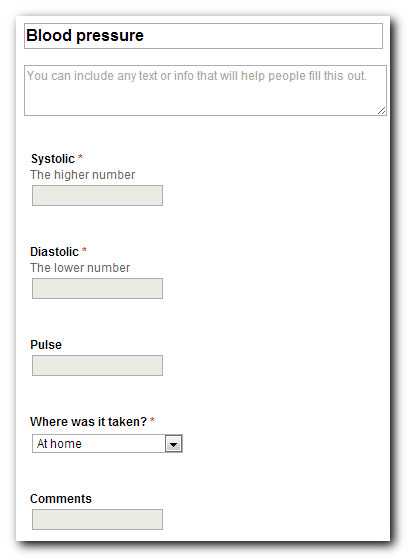 You can copy the Google Form I use or create your own. To copy it, make sure you're logged in to your Google Account, then go to File -> Make a copy… and give it a name. To edit the form, go to Form -> Edit form. The link to bookmark or add to Shortmarks can be found at Form -> Go to live form. Click on it, then bookmark that page.
The time and date is automatically recorded so try to fill it out right after you take your blood pressure. You also get a snazzy chart of your readings and it calculates your average blood pressure as compared with a normal reading, or 120/80.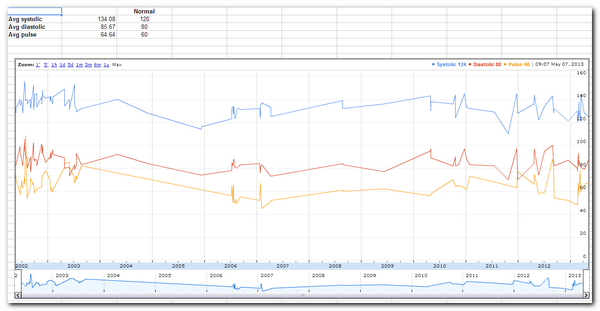 If you use the Android Epistle app to sync with Dropbox and it's no longer working, read on.  I searched online to find out what was up and discovered the beloved app has been discontinued.  Interestingly, the author created a similar app called Draft that costs $2.49.  I'm all for supporting developers and have done so many times, but Matteo Villa went about this the wrong way for his current users.  I don't know the details that led to his decision, but it left a bad taste in my mouth.  I'm not the only one who felt that way based on the most recent reviews.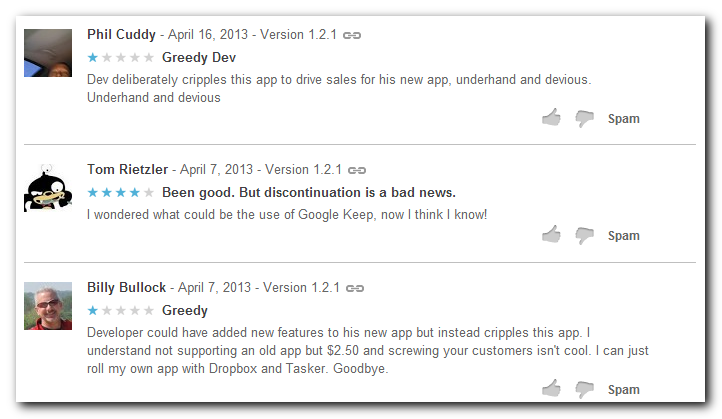 Epistle has been uninstalled and in my search for an alternate solution I found that the native Dropbox app has a built-in text editor. It's spartan, but syncs text files and lets you edit them even when you're offline (as long as you edited the file recently). It's not great, but it works for me.
Ever since school started this year I've been dropping two of my boys off at school instead of one. This means my bag goes in the trunk instead of the back seat. Every day when I arrive at work I open the rear door, stare at the empty seat and wonder how I was robbed while driving. Then I smack my forehead and retrieve my bag from the trunk.
Each time this happens I'm reminded of how powerful our habits are. I'm usually thinking about something else as I get out of the car, allowing my habits to take over. This particular habit isn't all that useful of course, but imagine if you automatically went for a run every morning, ate only healthy snacks or took out the trash without thinking about it.
Habits, good and bad, can be incredibly powerful once they're in place. It's been 2 weeks since school started and I'm still unthinkingly looking for my bag in the back seat.
If you use a computer with a keylogger, your privacy is severely compromised. This screencast shows you two free keyloggers and how they work, as well as some tips on how to protect yourself.
I demo Hooker (careful searching for that phrase…) and pyKeylogger.
sWeather is a simple, free, portable utility that shows you the current weather in any number of locations you choose. Here's a demo of how it works.